COMMUNITY OUTREACH PROGRAMMES
International Drug Abuse Awareness Walkathon Rally
International Drug Abuse Awareness Walkathon Rally from Vidhana Soudha to Kanteerava Stadium was conducted on 26th June 2023. Dr. Ramesh, HOD, Public health dentistry along with interns participated in the walkathon. Along with our college faculty and students, several prominent politicians of Karnataka including Honourable Deputy Chief Minister Shree DK Shivakumar participated in the rally.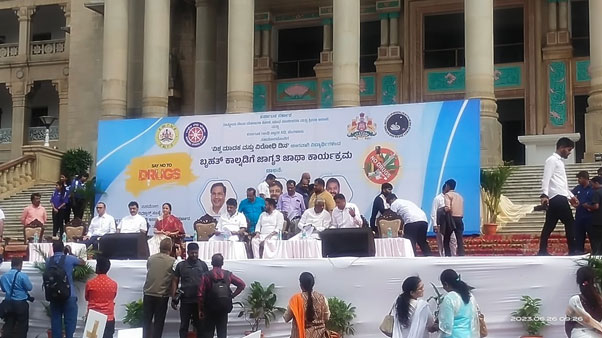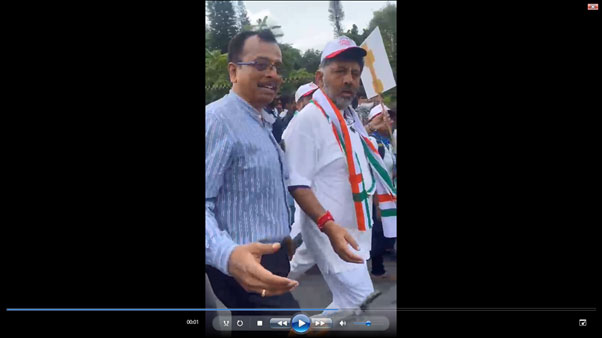 ---
The Department of Public Health Dentistry conducted a total of 54 outreach programs for the period between April 2018 to March 2019. The dental health service provided during the outreach programs included oral health education, oral prophylaxis, a traumatic restorative technique, temporary and permanent restorations and extractions.

A total of 1653 patients were screened and treated, appropriate referrals to the dental college was done for further treatments.

The outreach programs conducted included places such as Bannerghatta, Begur, Veerasandra, Lingrajpuram, Krishnagiri district, Mangamanapalya, Nayapanahalli, HSR, Hongasandra, Attibele, Kudlugate, Jigani, Bellandur, Mindtech, Govindhettypalya, Sarjapua, Hosur, Ramasagara, Hulimav, Avalahalli, Chandapura, Mahadevapura, Shankarmatta, Arekere, AMR techpark, Doddakanelli and Maniyambal. Total health education programs conducted were 65. Target groups included village people, people who belonged to a low socioeconomic status, prisoners, school -children, software engineers, orphans, geriatric and factory workers. A total of 4567 people were found to benefit from the dental and awareness programs conducted during the outreach services conducted.