Admission Details:
Bachelor of Dental Surgery: B.D.S.
Course Duration: 4+1 Years

Pass in PUC/PDC/10+2 or equivalent with Science subject PCB and English 50% marks in aggregate (40% marks in case of SC/ST Karnataka candidates only).

The candidates should have also qualified through NEET and must have completed 17 years of age by 31st December of the year of admission.

The candidate should be medically fit.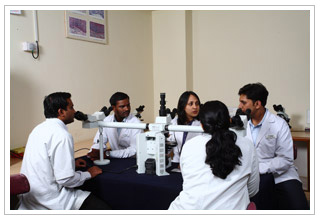 Master of Dental Surgery: M.D.S.
Course Duration: 3 Years
Specialities:
Oral Medicine & Radiology
Oral & Maxillofacial Surgery
Periodontology
Conservative Dentistry & Endodontics
Prosthodontics and Crown & Bridge
Public Health Dentistry
Orthodontics & Dentofacial Orthopedics
Paedodontics & Preventive Dentistry
Oral Pathology & Microbiology
Eligibility:
A candidate for admission to the MDS course (Master of Dental Surgery) must have a degree of BDS (Bachelor of Dental Surgery) of an Indian University or an equivalent qualification recognized by the Dental Council of India and completed the compulsory rotary internship on or before 30th April of year of admission.
Crieteria for selection:
Students for MDS course shall be admitted based on performance at the competitive examinations held by Central Government / State Government / Universities or Institutions.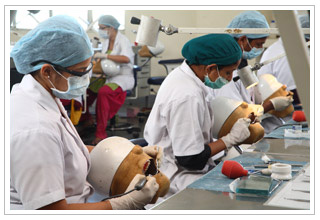 A Post Graduate Degree (M.D.S.) represents a logical progression for all B.D.S graduates. The training that the person undergoes in Post-Graduation is in one of the specialities of dentistry of his/her choice, and forms the basis for any further advancements of the person in his chosen speciality.

All diagnostic procedures from radiographs, R.V.G's (Radiovisuographs), blood Tests to histopathology are available under one roof ensuring prompt patient care.
Discipline:
Discipline brings order and that in turn harbours harmony. The study of any medical branch calls for a serene and serious atmosphere. Students are expected to be smartly dressed at all occasions and have to follow the prescribed dress code for classes. Ragging in any form is viewed seriously by the Management and anyone found ragging will face severe punishment that could extend to summary dismissal. Ragging is also an offence under the Karnataka Education Act, 1983. Quick Links