Sri Jayadeva Institute of Cardiovascular Sciences and Research
THE OXFORD DENTAL COLLEGES' DENTAL CLINIC AT THE SRI JAYDEVA INSTITUTE OF CARDIOVASCULAR SCIENCES & RESEARCH.
The Sri Jaydeva Institute of Cardiovascular Sciences & Research is a premier, tertiary level, super-speciality hospital for dedicated cardiac care. The dental clinic started functioning on 01.03.2011. It is staffed by one full time dental officer who is an oral & Maxillofacial surgeon, one full time Prosthodontist & endodontist, &, need based on call consultants from all other clinical departments. PG students, 3 each a day on rotation, from all departments complements the staff in the discharge of patient care.

The clinic offers comprehensive dental care to all the inpatients & out patients of SRI JAYDEVA INSTITUTE OF CARDIOVASCULAR SCIENCES & RESEARCH. The first dental college in the country to be tied up with a dedicated cardiac care centre, it is opening up new avenues in patient care & research.

Situated in the ground floor of the new OPD block, it has a floor area of 500Sq.ft. It has 2 fully automated, state of the art dental chairs and an entire complement of the latest supportive equipment's, including RVG, patient management software &sterilisation techniques.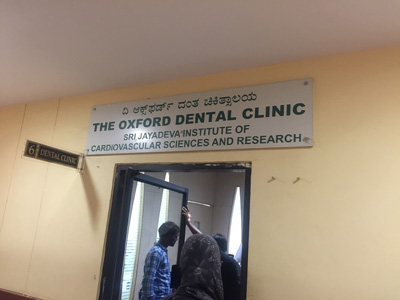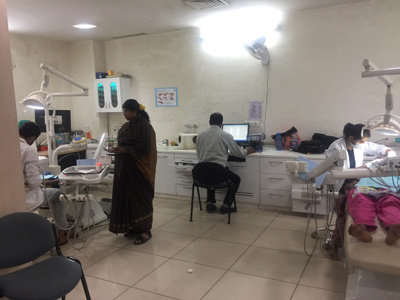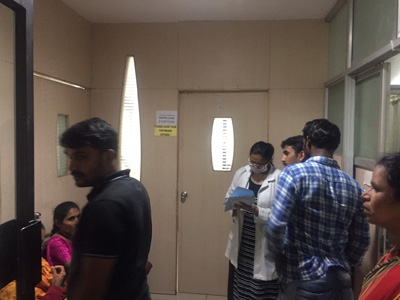 OBJECTIVES
TO PROVIDE SUPER SPECIALITY DENTAL CARE TO THE PATIENTS AT SJICRC, AT NOMINAL RATES, THUS REDUCING THE NEED TO HOP FROM ONE HEALTH CARE CENTRE TO ANOTHER.
TO ESTABLISH & IMPLEMENT MODES OF DENTAL TREATMENT WITHOUT CESSATION OF ANTIPLATELET DRUGS.
TO PREVENT INFECTIVE ENDOCARDITIS CAUSED FROM ORAL BACTERIAL FLORA
MONTHLY REVISIT OF PATIENT TO BE TIED UP WITH DENTAL CHECK UP TO ESTABLISH PRIMARY PREVENTION FROM DENTAL DISEASE.
TO PROVIDE CARE FOR NONAMBULATORY PATIENTS & PATIENTS WITH CRITICAL CARDIAC PROBLEMS WITHIN A HOSPITAL SET UP.
SERVICES RENDERED
Pre operative oral prophylaxis & comprehensive dental care for patients due to undergo a cardiac procedure.
Interventional dental care, in patients with cardiac disease who find it tough to get treatment at dental care centres.
Preventive dentistry in patients with valvular disease to reduce the incidence of infective endocarditis.
Rehabilitation services to patients with lost dentition, to increase nutrition levels to fasten convalescence.
Dental care to patients on antiplatelet drugs in whom bleeding is an everpresent danger.
Patients who are unstable & require dental treatment in a hospital set up.
STRUCTURE & ORGANISATION
The clinic is run by the staff & post-graduate students from The Oxford Dental College & Hospital

STAFFING PATTERN:
Consultant Oral & Maxillofacial surgeon
Consultant Endodontist: 1 staff member from the dept of Conservative Dentistry &endodontics is posted on rotation. The posting is for a duration of 2 weeks.
Consultant Prosthodontist: from the dept of prosthodontics, is posted at the clinic on Wednesdays & Saturdays.
Post graduate students, from all the departments of The Oxford Dental College & Hospital, are posted on rotation, 3 students at a time on a day.